Meet Your Board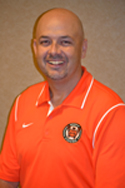 Dr. Chris Berger
Dr. Berger was born in Wichita Kansas but considers himself a lifetime Missouri resident. He is the brother of five siblings and was raised by his aunt and uncle on small farm in Gainesville. His aunt owned and operated a variety store on the square of Gainesville the entire time of his upbringing. "Many of my core values were developed while being raised on our small farm and in the store, both of which I had a hand in running". Of his five siblings he was one of two, to complete high school and the only one to receive a college degree. He spent five years teaching middle school and coaching varsity boy's basketball in Gainesville. After serving 11 years as superintendent Dr. Berger became a Tiger and is finishing his first year as Assistant Superintendent of Business Operations, for Waynesville RVI. "I am very excited to continue to serve on the Chamber Board. I believe in the vision that is laid out and hope I can have a positive impact on moving us toward our goals". Dr. Berger enjoys being on the river and doing anything outdoors with his family, wife Amanda and their three boys; Christopher 17, Gunnar 14, Ryder 12.
Welcome Kate Thomas to the Chamber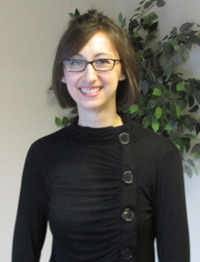 Hello! I'm Kate Thomas, an AmeriCorps VISTA serving with the Waynesville - St. Robert Chamber of Commerce. I was born and raised on a beef and crop farm in rural Minnesota. (Go, Minnesota Twins!) Married for almost three years with two dogs, Army life took us from Minnesota to Yakima Training Center in Washington to Fort Leonard Wood. My background is in sales and communications and I've nearly completed my Bachelor of Arts in English/Literature, with a goal of completing a Master's degree. My spare time usually involves creating a crochet project or reading a good book. Over this next year, I am excited to see what we can accomplish together for our community.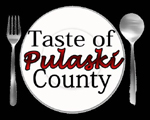 Taste of Pulaski County and Basket Auction
The 2015 Waynesville-St. Robert Chamber of Commerce's Annual Taste of Pulaski County & Basket Auction to be held on Saturday, March 28th from 11 a.m. to 4 p.m. at the St. Robert Community Center. This event is the largest and primary fundraiser the Chamber holds each the year.
Restaurants will be handing out fine samples of all their favorite menu items during this event. A variety of specialty baskets from area businesses will also be up for bid. These baskets are sure to suite anyones taste. A silent auction and door prizes are also included in this fun filled event. Doors open 11:00 a.m. with the Auction beginning at 12:30 p.m. Come early to browse the wonderful items for bid and start sampling the delicious food offered by area restaurants.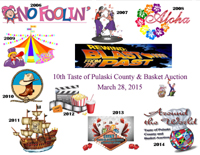 Click image for details
Tickets are $10 for adults, $5 for children 12-5 years old and children 4 and under are free. Pre-event tickets are NOW available at the Chamber office.
Members what will be in your basket for the Taste of Pulaski County & Basket Auction? Have you thought about what you'll be putting in your basket? All items submitted are greatly appreciated and help to make this event the largest and primary fundraiser the Chamber holds throughout the year. In addition to baskets the Chamber appreciates door prize items.
Volunteers will be out on Friday, March 6th and Monday, March 9th picking up donations, so don't hesitate to contact the Chamber and let us know if your business would like to donate a basket, gift certificate or silent auction item, call (573) 336-5121 or e-mail chamberdirector@wsrchamber.com.
Community Forum
The Chamber will host the annual community on April 14th in the library of the Waynesville High School. The panel discussion will begin at 6:30 p.m. Speakers for the evening will include representatives from Fort Leonard Wood, St. Robert, Waynesville, Waynesville R-VI School District, and Pulaski County. The community is invited to attend the forum and will have the opportunity to ask questions. Questions must be submitted in person. This event will be broadcast on Channel 12. Click here for the event page.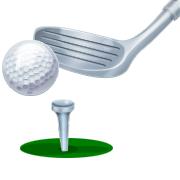 Chamber Four Person Scramble
FOUR! The Chamber is excited for the upcoming Four Person Scramble on April 23rd. The tournament will be an 18-hole four person scramble with a shotgun start at 10:00 a.m. at Piney Valley Golf Course on Fort Leonard Wood. Team check-in will be at 9:00 a.m. A meal will be provided for teams after they complete the tournament. Awards will be given after the tournament is complete as well as door prizes donated by Chamber members.
Registration for teams is now open. There is a $50 entry fee per person. Mulligans will be available for $20 per team and a 5' String is $10 per team. There is a limit of 30 teams so register today! Registration forms and entry fee payment must be received at the Chamber office by April 14th. Click here for form and flyer.
Event sponsorships are available!
Hole sponsorships are available for $100 per hole. A hole sponsor will receive a sign at the hole and there business will be listed on the event web page and in all press releases.

Cart sponsorship are available for $50. Cart sponsors will have a sign on a cart and will be listed on the event web page.

The Chamber is also collecting door prizes. Chamber members who donate a door prize will be announced at the event and listed on the event web page.
Click here for a copy of the sponsorship form.
Tour of Fort Leonard Wood
On April 30th AUSA, Committee of Fifty, Friends of the Fort, Support the Fort and Phelps for the Fort will be offering a tour of Ft. Leonard Wood beginning at 8:30 a.m. and ending at 2:30 p.m. We are excited to be able to offer the community this opportunity to tour Fort Leonard Wood and witness the transformations that have impacted our communities in so many positive ways over the years. The tour will be leaving from the Waynesville-St. Robert Chamber Office, located in the lower level of the Visitor's Center at 137 St. Robert Blvd., Ste. B in St. Robert, as always please remember to park in the back of the building. Lunch will be provided by AUSA during the tour. Space is very limited so please R.S.V.P. to 573-336-0221 or email chamber@wsrchamber.com no later than April 4th. For the event page click here.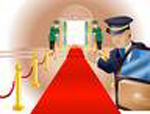 Community Leadership Awards Banquet

The Waynesville - St. Robert Area Chamber of Commerce held its annual Community Leadership Awards Banquet on Friday, February 13, 2015 at the St. Robert Community Center. This event was held to commemorate the hard work and dedication to community exhibited by our area leaders, non-profit organizations and civic groups, as well as announces the Citizen of the Year.
This year four outstanding volunteers have been nominated for Citizen of the Year. The nominees for the 2014 Citizen of the Year were Tim Berrier, Kelly Howley, Chuck Lynn, and Bill O'Neal. This award is intended to recognize individuals not for a particular year of service, but rather to recognize a person who has performed outstanding and dedicated service to the community and/or towards helping others over time in the Waynesville-St. Robert area. Click link for more information.
Thank you to our Sponsor: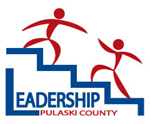 Leadership Pulaski County
The 2014-2015 class of Leadership Pulaski County attended its sixth and final session on February 19th. The focus on this session was on Healthcare, Social Services, Environment, and Public Safety. Click here to see pictures from the sixth session. The class also graduated from the program on February 19th. The keynote speaker for the night was Danny White and sponsored by the Waynesville - St. Robert Ambassadors Club and Military Police Regimental Association. Click here for pictures and video of the graduation.
If you are interested in contributing to the building of community leaders by becoming a 2015-2016 Leadership Pulaski County Sponsor or would like more information on the program contact the Chamber office at 573-336-5121 or email info@wsrchamber.com.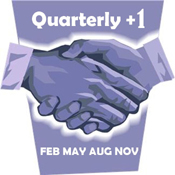 Chamber Quarterly +1 Luncheon
The Chamber held its first Quarterly +1 Luncheon for 2015 on February 11th at the Greater Community Fellowship Hall. The luncheon was catered by the Greater Community Missionary Baptist Church and sponsored by Ireland Architects. This luncheon had 73 members and guest present. The Chamber is challenging its members to beat this record at the next Quarterly +1 Luncheon which will take place at the Hampton Inn on May 13th from 11:30 a.m. to 1:00 p.m.
The remaining Quarterly +1 luncheons in 2015 will take place on May 13th, August 12th, and November 18th in 2015. If you know a current Chamber member who has not been to a luncheon in a while or if you are speaking to someone about possibly joining the Chamber, please invite them to attend the luncheon with you. Any perspective member must attend with a currently active member as their guest.
There are no seating limits for the Quarterly +1 Luncheons so it is a great opportunity to get involved and updated on the community and network with fellow Chamber members. RSVPs are due the Tuesday before the luncheon by 9:00 a.m. Guests of Chamber members must also have an RSVP to attend. Cost is $10 per person. All regular Chamber luncheon policies apply.

For more information on the new Quarterly +1 Luncheon or to RSVP contact the Chamber office by calling 573-336-5121 or email chamber@wsrchamber.com.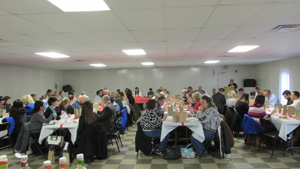 Chamber Business Showcase
On March 2nd the Chamber Surprise Patrol visited two Chamber member businesses to recognize them as the Chamber Business Showcase member recognition program recipients for March. The March Business Showcase recipients are First State Bank of St. Robert and Waynesville R-VI School District. The Surprise Patrol visited both businesses and dropped off a special sign that will be displayed throughout the month. Business Showcase recipients are drawn each month. The Surprise Patrol will be out again in April to recognize the next recipients.

Offer a discount or special offer to your business through the Chamber's Shop Local Key Tag.
Anyone with a Shop Local Key Tag can visit a participating business and receive a discount or take advantage of a special offer. Key Tags are FREE and available at all Chamber events as well as the Chamber office. Key Tags will be available during regular office hours at the Chamber office.

This program is open to any type of Chamber business including retail, restaurants, fitness, service businesses, or any business wishing to give a special promotion to residents. Your discount or special promotion needs to be good through December 31, 2015. Please fill out the form below with your discount or special offer to indicate that you are interested in participating in this program.
For more information about the Shop Local Key Tag Program visit www.keepitlocal.biz.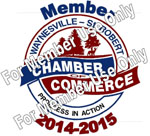 Chamber Membership E-Plaque
The 2015 -2016 Chamber Membership E- Plaque is now available to members. This plaque may be placed on your business web site or social media page to increase your credibility through the recognition of Chamber membership. E-mail info@wsrchamber.com for the web site code and instructions to add the new Chamber Membership E-plaque to your company web site.
The character word for March is: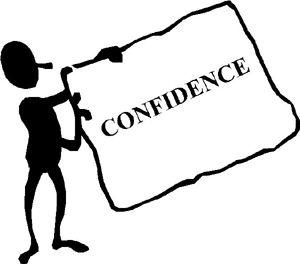 Quote:"Be who you are and say what you feel, because those who mind don't matter, and those who matter don't mind." ~Bernard M. Baruch
Definition: noun - full trust; belief in the powers, trustworthiness, or reliability of a person or thing; belief in oneself and one's powers or abilities; self-confidence; self-reliance; assurance: certitude; assurance: a secret that is confided or imparted trustfully.

What does confidence mean to you, your business, and the community?