Come fly with us!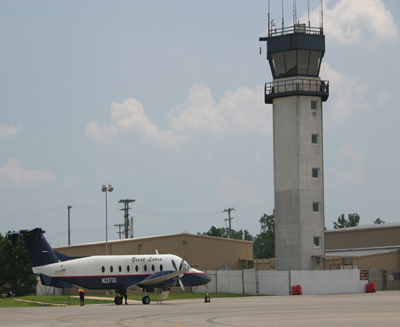 Waynesville - St. Robert Area
Regional Airport

The Waynesville - St. Robert - Fort Leonard Wood area has many assets that make this a great place to live, work and raise a family. The Maneuver Support Center and Fort Leonard Wood makes this a destination of choice for tens of thousands of visitors each year. The natural beauty of the Ozarks makes this a wonderful place to call home. Our schools are second to none, and our friendly and hard working people pull it all together to make this a place ripe for development.

Another asset that makes this a great area to develop is the Waynesville - St. Robert Regional Airport on Fort Leonard Wood. Fort Leonard Wood has always had an airport, and has had commercial air service for decades, but the airport has evolved to a whole new level over the past decade.

Commercial service has been taken over by Great Lakes Airlines, a commuter airline carrying tens of thousands of passengers each month among dozens of cities in the upper Midwest, central and northern plains, and the southwest. Great Lakes provides three flights each direction each weekday to and from St. Louis and Kansas City. Great Lakes also provides one flights each way on Saturday and Sunday to both Kansas City and St. Louis. This frequency makes it a lot easier for people to fly commercial into or out of Fort Leonard Wood, saving a long drive and dealing with St. Louis or Kansa City traffic.

The biggest change has been the creation of the joint use airport, known as the Waynesville - St. Robert Regional Airport. With all of the military airports across the country, only 22 are joint use airports, making ours a very unique airport. Joint use status allows private aircraft to land, park, and receive services at the airport. Hangars have recently been built that offer storage and protection for up to 16 aircraft. Because the Waynesville - St. Robert Regional Airport is capable of instrument aided landing, visitors can land during inclement weather - we are the only airport in a 51 mile radius that offers this capability. The cities are working to continually expand the capabilities of the fixed base operations (FBO), making our airport the airport of choice for recreational and business travelers alike.

Booking a flight into our regional airport is as easy as telling your travel agent (or travel website) that you want to fly into Fort Leonard Wood. The airport code for the Waynesville - St. Robert Regional Airport at Fort Leonard Wood is TBN. For ticket information you can call 573-329-4200 or 800-554-5111, and for FBO services you can call 573-329-4216.