Happy 5th Anniversary Hoppers Pub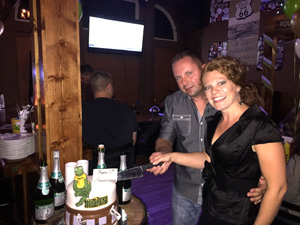 ____________________________________________
Happy 5th Anniversary Free Women's Center of Pulaski County
____________________________________________
USO Update
Volunteer Shifts Needing To Be Filled
Friday, Oct. 2nd 12 pm - 3 pm 1; 3 pm - 6 pm 2

Saturday, Oct. 3rd 12 pm - 3 pm 2; 3 pm - 7 pm 2

Sunday, Oct. 4th 10 am - 12 pm 1; 12 pm -3 pm 3; 3 pm - 6 pm 3

If you could assist with any of these shifts, please let us know by calling 573-329-2039.

____________________________________________
Kelly Miller Circus is coming to Waynesville
Step right up! The Circus is coming to Waynesville, MO on Wednesday, October 14th. The Kelly Miller Circus, one of only a few traveling circuses still in existence, will appear at Waynesville Roubidoux Park, with shows at 4:30 p.m. and 7:30 p.m.; thanks to the sponsorship of the City of Waynesville for benefit of the City Park System and the Little Heroes Playground Project. Advance tickets are available at Waynesville City Hall, Bank of Iberia, and the Waynesville and St. Robert locations of Security Bank of Pulaski County.
The Circus will start erecting the giant Big Top at approximately 9:00 a.m. Circus morning followed by a Tiger Meet and Greet, and everyone is invited to come and watch free of charge. The Circus is a fund raiser for the Little Heroes Playground Project. This organization receives a greater share of the advance ticket sales than from tickets sold on Circus day. Show your support for the Little Heroes Playground Project by purchasing your tickets early.
____________________________________________
Current Openings with MWR
Current Opening
Bartenders Bowling Facility Maintenance Worker Child & Youth Program Assistants Food Service Workers (NA-01)
Food Service Workers (NA-02) Recreation Aids Recreation Aid (Facility Aid) Recreation Aid (Facility Operator)
Sales Clerk Waiters

Watch for the upcoming vacancies; that will be out on USA Jobs soon!
CYS School Liaison Cook (CYS) Part-Time
Operations Assistant

To apply for the positions above, please visit usajobs.gov and apply on line (in the location - type in Fort Leonard Wood and all positions that are currently open will populate).
Have you worked for Army NAF within the last three years? You may apply for non-competitive reinstatement into the same or equivalent position in grade, or one with a lower rate of pay. This means you can visit the NAF Personnel Office with the following documentations; (1) Resume or DA 3433 (application for Non-appropriated Fund Employment) (2) DA 3434 (Notification of Personnel Action) (3) Additional documentation to meet qualification requirements (HS diploma, official college transcripts, certifications, licenses, etc.) and be place on the reinstatement list.
Visit the NAF Personnel Office in Person located in Building 470, Suite 1207 to pick up a Manual Application Package.
If you have any questions, issues applying on line, or need assistance, The NAF Personnel Office is located at 13486 Replacement Avenue (Building 470), Suite 1207, Fort Leonard Wood - Phone: (573) 596-0283 Hours of Operations: Monday, Tuesday, Thursday and Friday 0800 - 1600 closed from 11:30 a.m. to 12:30 p.m. on Wednesday 8:00 - 11:30 and closed in the afternoon.
____________________________________________
Trunk or Treat
Trunk or Treat at Bow and Barrel Sportsmen Center is October 31st from 4-8pm. 40 decorated trunks for trick or treating, bounce house, pumpkin decorating, plus tons of treats and drinks. Event is free for the whole family. We are still looking for trunks (individual or business), candy donations, and volunteers for the evening. Anyone who provided a decorated trunk that evening will receive a free 20 day membership and be eligible for the grand prize for best decorated trunk. If interested please contact Mikayla at mikaylahaluptzok@bowandbarrelsports.com.
____________________________________________
2nd Annual Kids Helping Kids Dinner
Mark your calendar and plan to attend a fun-filled evening of Kids Helping Kids on September 26th. Cocktail hour is from 6 - 7 p.m. with dinner and presentation from 7 - 8:30 p.m. Portions of the meal, table service, and entertainment provided by students from Camdenton Schools and School of the Osage.
Tickets are $49 each and available at Kids Harbor, Central Bank and First National Bank. Attire is business casual to formal.
For sponsorship information contact Carrie Judas at 573-216-5087.
____________________________________________
Veterans Day Half Marathon and 4 Miler
Veterans Day Half Marathon and 4 Miler on Saturday November 7th at 9:00 a.m. at the Missouri Veteran's Home in St. James.
Please join us as we celebrate Veterans Day and the opportunity to honor those who have served, who are currently serving, their families, and the sacrifices they have made for our great country. Net proceeds from this event will be contributed to the Missouri Veterans Home in St. James, and put towards the purchase of a new bus. They will be better able to transport residents to activities and appointments, furthering Team RWB's mission of "Enriching the Lives of America's Veterans". Please register at split-secondtiming.com.
____________________________________________
Tax Course from Liberty Tax
Register today for Liberty's Tax Course. This is a ten week course September 28th through December 2nd, Mondays and Wednesdays 6 p.m. to 9 p.m. Liberty Tax Service is located at 555 Marshall Drive in St. Robert. For more information visit libertytax.com/tax-education or call 573-336-4829/573-308-8409.
____________________________________________
Rising Above Hunger
RE/MAX Professional Realty will be hosting "Rising Above Hunger", The purpose is to raise funds for the "Snack in a Pack" program. This program provides food to kids in need.
RE/MAX Professional Realty will have the RE/MAX Hot Air Balloon on location and giving free tethered flights!. There will be several activities for children so it should be a fun time for all.

The date is October 11, 2015 and this event will be held at the Waynesville City Park 4:00-7:30 p.m.
____________________________________________
Cardio 4 a Cure
Kick off Breast Cancer Awareness month with Cardio 4 a Cure on October 3rd from 9 a.m. to 11 a.m., hosted by The CENTRE in Rolla and sponsored by PCRMC. Cost to participate is $20, event includes two hours of cardio, weightlifting, Zumba, and a t-shirt! Items for sale include raffle ticket, crafts, and food.
Our goal is to assist local women to receive their annual mammograms for free at the PCRMC Breast Cancer Center. 100% of proceeds raised are donated to the PCRMC Breast Center Mammography Fund.
____________________________________________
Language Classes and Cultural Art and Craft Fair at the Waynesville Library
The Waynesville Library is happy to announce that free language classes for adults 18 and up will be staring the beginning of October. The first beginning Spanish classes will be held on Saturday, October 3rd from 11 a.m. until 12 p.m. The fist beginning German class will be held on Monday October 5th from 4:45 until 5:45 p.m. If you are interested in enrolling in a free language class, please sign up at the Waynesville Library. Space is limited so come in soon.
The Waynesville Library is hosting its first monthly cultural arts and craft fair Friday, October 3rd from 10 a.m. until 5 p.m. If you are an artist or craftsman who would like to have a booth at this event, please stop by the library or call 573-774-2965 to reserve a booth space or for more information.
____________________________________________
6th Annual Walk & 5K Run for Life
6th Annual Walk & 5K Run for Life Saturday, October 10th , in the Waynesville City Park. All proceeds will benefit the Nativity House. One can register or learn more at www.supportmyfwc.com or call (573) 774-4992.
____________________________________________
Meramec Regional Planning Commission is accepting door prize and auction item donations for their Annual Dinner
The Meramec Regional Planning Commission's 2015 Annual Dinner is planned for Friday, October 30th at the Havener Center in Rolla to honor and award community volunteers. If you would like to donate a door prize or auction item - such as gift baskets, services or products - we welcome the opportunity to highlight your business. Proceeds from MRPC's silent auction helps offset the cost of our annual dinner so we can continue to honor the volunteers who are critical to the success of our region.

Items should be received by Thursday, October 15th. When making or accepting donations for the auction table, please help us further promote and support local businesses by submitting business cards or brochures that may then be included in table displays.

We would be happy to assist you with coordinating a pick-up of a donation. If you have any questions, please contact Jill Hollowell at jhollowell@meramecregion.org or 573-265-2993 ext. 109.

____________________________________________
Pumpkin Fest
Every Halloween, parents are looking for a safe and exciting place for their children to trick or treat. Fortunately, Pumpkin Fest provides safety, food, and fun, all in a carnival type setting. This event has been an annual Pulaski County tradition for over 8 years. In 2014, more than two thousand local residents participated in the festivities.
Each year, area churches, non-profits, and other organizations work together as one team to foster unity, community caring, and intentional outreach.
Events include hayrides, pumpkin patch, live bands, bounce houses, carnival games, petting zoo, balloon animals, Sparky the Fire Dog, free food, candy, and so much more.
Join us at the Waynesville City Park for this free fabulous fall event. October 31, 2015. 4 pm-6 pm. Alternate rain date is November 1, 2015 4 pm-6 pm. For more information, please call 573-774-2299.