Happy 5th Anniversary Sonic Drive-In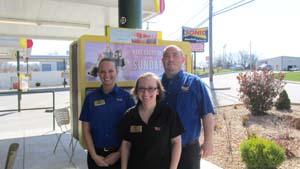 ____________________________________________
Public House Brewing Company
Beer:

It lives....It has a name.....It is....

Elusive IPA

Malt Bill - 2-row Pale Ale malt, Munich malt
Hops - Centennial Type, Millennium, Falconer's Flight, Ahtanum, Crystal, and Cascade
Aroma - Loads of fresh citrus - up front with orange and tangerine, with a little pineapple underlying (no fruit was added to this beer). The aroma is almost a candy-like sweet.
Flavor - Citrus candy flavors of orange. Very dry finish due to very little to no residual sugars from the malt bill. The bitterness is surprisingly smooth for a beer coming in at 68 IBUs.
Mouthfeel - Medium to light body mouthfeel--enough to balance the hop bitterness. Mid to mid-high carbonation helps with the dry finish.

Events:

Baby Bauer Bistro! -- The drawing was held last night and the lucky winner of the table was one of many people who helped us raise over $4,000 for Baby Bauer's medical needs! Thanks to everyone who gave their support to Baby Bauer and his family by participating in the raffle for the bistro set.

Public House Presents: 4th Annual American Homebrewers Association (AHA) Rally -- Saturday, April 19th (1-4pm)
-Try a Rally-exclusive beer brewed by Public House in collaboration with local homebrew club, Missouri Association of Serious Homebrewers (MASH)
-Enjoy Public House beer samples
-Take home a Rally-exclusive gift from the AHA
-Meet Public House brewers and staff
-Take a VIP brewery tour
-Mingle with local homebrewers
-Win great prizes from the AHA and Public House!
AHA rallies are free to current AHA members. Non-members can join now, or sign up onsite at a discounted member rate. Save time and fill out a membership form in advance to bring with you to the Rally. Don't forget to RSVP to help us properly prepare for the event. Follow this link to RSVP.

Upcoming Live Music:

4/11 -- Dixie Union (8pm)
4/16 -- Trilogy (7pm)
4/18 -- Two Far Gone (8pm)
4/19 -- "CUZ" Jazz Duo (8pm)


____________________________________________
Upcoming Events at The ARK
Come celebrate Spring this Saturday at the ARK Community and Sports Center's 3rd Annual Kids Karnival "Eggstravaganza" from 10am to 2pm. The Easter Egg Hunt begins at 12:00pm. Come early and make your own Easter bag to collect the eggs in. We will have a bouncy house courtesy of the Pulaski Health Department, obstacle course courtesy of the Kiwanis Club, the Waynesville Police and Fire Department will be there, fun photos by Erin Hamilton Photography, face painting, and the rock wall. There will be something for everyone. Free hot dogs while supplies last. This event is free and open to the public.
The ARK Community and Sports Center is looking for fill a custodial position. We are looking for someone who is available early mornings, evenings, weekends, holidays, and special events. Custodial experience is preferred but not required with the primary function to clean and maintain the facility. Individual must have the ability to follow instructions and read signs and have a basic knowledge of common cleaning solvents, cleaning tools, and equipment. He/she must be able to troubleshoot, make adjustments, and perform minor repair and maintenance of equipment.
The ARK Community and Sports Center is setting the stage for our 2nd Annual Virtuous Women's Expo. The event will be held on May 3, 2014 at the ARK Community and Sports Center from 9am to 12pm. The Virtuous Women's Expo combines shopping, beauty, wellness, health, fitness, kids & baby, home, food, entertainment and more JUST FOR HER. We take all the things women love and need and put them into one amazing event. This event will be free and open to the public.
We still have opportunities to be a vendor at the Virtuous Women's Expo. If you would like to be a vendor for this event please contact Donalisa Stinyard at 337-9128. This is a great opportunity to sell products, promote services, book appointments & consultations, grow clientele & build brand awareness. Cost for vendors is $20.
Nerf Wars…the battle continues is back on at the ARK Community and Sports Center beginning in May. Stay tuned for more details.

For more information call 573-337-9128.

____________________________________________
Citizens Mortgage Company offering 2014 WHS Scholarship
For the second year, Citizens Mortgage Company will be presenting a $500 scholarship to a 2014 WHS graduating senior at the Senior Honors Night in May. This scholarship is being given in honor of the oldest WHS alumni that was in attendance at last fall's homecoming football game.
Citizens Mortgage Company sponsored the football game and paid recognition to the oldest alumni in attendance at the game during halftime activities. Following a search of the fans, it was determined the honor went to Mrs. Nancy (Mayer) Logan, WHS class of 1948. Mrs. Logan had returned to the evening's game to watch her grandson, a Camdenton Laker senior play against the Tigers. Mrs. Logan has strong ties to the school district for many years. Her husband, Bob Logan had been employed by the WR-6 school district in the 80's.
WHS seniors interested in applying for the scholarship must apply directly to the WHS Counselor's office during April. For further information and for application forms and instructions seniors please contact Mrs Hartley or Mr Vernon in the WHS Counselor's Office.

____________________________________________
Open House at New Location
The University of Missouri Extension Office is holding an Open House in their new office on Saturday, April 5! The Pulaski County Extension Staff and Council would like to extend an invitation to the public to visit our new location at 403 School Street, Suite 1 (the old Waynesville Middle School building located two blocks behind the Pulaski County Courthouse) between 9:00am - 12:00pm for give-aways and to sign up for our drawing. Be sure to stop by see what the Pulaski County Extension Office has to offer you! We will be having displays of some of our programs and the Master Gardeners have a free composting class being held from 10:00am-12:00pm in the same location. The mission of the University of Missouri Extension is to provide research-based information to engage, change, solve problems, and help citizens make informed decisions. The Pulaski County Extension office includes: Sarah Traub, Human Development & Family Studies Specialist; Joyce Harris, Nutrition Program Associate; and Mischelle Weible, Administrative Assistant. For more information please call our office at (573)774-6177 or email pulaskico@missouri.edu.
____________________________________________
Field of Heroes
The "Field of Heroes" is an opportunity for us all to honor those that we consider our HEROES. Your hero may be a service member currently serving our country, a veteran, a firefighter, police officer, EMT, or maybe it's your grandfather. We all have heroes in our lives.
The Armed Services YMCA will be presenting a field of flags, arranged in the style of Arlington National Cemetery, and each flag will be available for sponsorship to allow you to recognize a specific hero in your life. 3 x 5 flags will be on poles and arranged in precision rows in the field in the Waynesville City Park (by the old middle school) on July 25th -27th, 2014, around Old Settlers Day. All proceeds will go to support programs for the families of our service members stationed right here in Missouri.
Participants will have the opportunity to sponsor a 3'x5' flag for $50.00 or a 15" boot flag for $25.00. On each flag or boot flag will be the name, branch of service and date of service of the honoree. A commemorative card listing the date of the event as well as the honoree's information will be provided to each person that sponsors a 3x5 flag or boot flag.

On the day of the event, the public will be allowed to walk through the Field of Heroes and spend some time amongst the reverence being paid to these heroes. Photos will be permitted. All proper flag etiquette will be rendered, including having the field properly lit at night. We will have opening ceremonies, guest speakers, and proper flag retirement services will be offered at designated times.
Our goal is to have 300 3x5 flags and 200 boot flags on this field representing 500 heroes at this event.
Corporate or individual sponsorships are offered at the $500/$1000/$2500 level. Each sponsor's name will be listed on a banner displayed the entire weekend. Guardian Sponsors ($2500 level) will also receive a commemorative flag in display case. Plaque to read" Flown at Field of Heroes July 25-27, 2014".
For more information, or to order a flag, contact the ASYMCA at 573-329-4513 or ymca@centurylink.net. Payments made be made over the phone.
____________________________________________

Pershing Community Center Closed Today
The Pershing Community Center is closed today, April 4th in support of the 4th MEB Ball. This includes PCC Lunch Program, BlackJack Evening Bar Operations, Right Arm Night originally scheduled for April 4th is cancelled.
Morelli Heights Bar & Grill will also be closed, April 4th as staff supports the 4th MEB Ball.
For you for your understand and support.
____________________________________________
Grease
More than 60 students, community members, faculty and staff have been working for the last two months to prepare for the spring 2014 production of the musical "Grease," which will be performed at Missouri University of Science and Technology in April.
The performances will be held at 7:30 p.m. Thursday, April 10, Friday, April 11, and Saturday, April 12. A matinee performance will be held at 2 p.m. Sunday, April 13. All performances will take place in Leach Theatre of Castleman Hall, 10th and Main streets in Rolla. Tickets are $12 for general admission and $10 for current Missouri S&T students and those under 18 years of age. Tickets can be purchased at the Leach Theatre Box Office, open 9 a.m.-4 p.m. Monday through Friday and located in the lobby of Leach Theatre.
The show is a collaboration between Missouri S&T's Miner League Theatre players and the Rolla High School drama program. The production is based on Warren Casey and Jim Jacob's 1971 musical of the same name. It is co-directed by Jeanne Stanley, assistant professor of theatre at S&T, and Wendy King, Rolla High School drama teacher. David Cress, lecturer of theatre at S&T, is the musical director and Alicia Smith, a dance instructor at and Flew! Dance studio in Rolla, is the choreographer.
"It has been a delight to direct the show," says Stanley. "We have great professionals working with us and these folks have taught our actors some amazing dancing, singing and acting skills. As fun as the movie was, we have quite a few fun tricks up our sleeve that are sure to delight the audience."
Tickets 573-341-4219 - $12 Adults ; $10 Youth

____________________________________________
Coaches needed for Youth Sports
Baseball, Softball and T-ball
Fort Leonard Wood Youth Sports and Fitness Department is looking for highly motivated individuals to apply (could take more than a month to complete) to become youth sport coaches for our Baseball, Softball and T-ball programs. Registration will start March 31, 2014.
If Interested please stop by to pick up a coaches packet from Youth Sports located inside the Pippin Youth Center.
Please Contact us at 573-596-0209 or email jamal.a.verdell.naf@mail.mil

____________________________________________
Lions Club Breakfast
The Waynesville-St. Robert Lions Club is hosting a pancake, sausage, biscuits & gravy Breakfast on Saturday, May 17th from 7 a.m. to 11 a.m. at the St. Robert Community Center. Adults are $5 and Children 12 & Under are $3.
____________________________________________
12th Annual Spring Fling
The Travelers Square Dance Club supports the 12th Annual Spring Fling with caller David McKinnon on April 12th at the St. Robert Community Center. The afternoon fun is from 3:00 to 5:30 p.m.; the dinner break is 5:30 to 7:00 p.m.; and the evening fun is from 7.00 to 9.30 p.m. All you can eat dinner and desserts. $7 per person; students 18 years and under are $3.50 each. For more information call 573-759-6874.
____________________________________________
Pulaski County Libraries Open House
To celebrate National Library Week April 13th through the 19th, the Pulaski County Libraries will have open houses. The Waynesville Library will hold an open house on April 15th from 2 - 5 p.m.; Richland and Crocker Libraries will hold open houses on April 15th from 2 - 4 p.m. Refreshments will be served and a drawing for door prizes will be held.
____________________________________________
Beauty Expo
A Beauty Expo will be held on April 14th from 9 a.m to 5 p.m. at the St. Robert Community Center. The host for the event is LaShonda Gilmore, guest speaker is Bonita Quinn, author of No More Bondage, discussing moving forward in Business. Free Admission, samples, and giveaways. Area Salons, Barbers, Distributers and Wellness under one roof! A percentage of the proceeds will go to Manna Fest Destiny Ministries.
____________________________________________
Military Appreciation Month
Celebrate Military Appreciation Month with Navy Federal Credit Union. Check out exclusive military appreciation offers, including the $50 Referral Bonus. Ask a rep about this and other exclusive offers on auto loans, credit cards, checking, and certificates. Hurry on this limited-time offers at 310 St. Robert Blvd., Ste 9 or navyfederal.org
____________________________________________
Broadway By Jeri
Thursday, April 17,2014 at 7:30pm
Tickets: $35 Adult / $25 Youth
Best known for her portrayal of Grizabella in Andrew Lloyd Webber's Tony Award-winning musical Cats, Broadway veteran Jeri Sager wows audiences with her amazing vocal range and abundant energy as she performs an array of hit songs in her one-woman show, Broadway by Jeri. Sager also received critical acclaim for her portrayal of Fantine in Les Miserables and Eva Peron in Evita. In addition to her Broadway roles, Sager has worked in other theatrical productions such as City of Angels, Brigadoon, West Side Story, Pippin, Joseph and the Amazing Technicolor Dreamcoat, and Pump Boys and Dinettes. Broadway by Jeri promises to be a purrrr-fect evening!


____________________________________________
Hello Friends of Z Loft Hotel Bar Grill
It looks like Spring is still fighting to gain control so lets hope for the best!
We wanted to share some good and bad news with you. Unfortunately we aren't having lunch Wednesday-Friday any longer. We apologize for any inconvenience; however,
The good news is our restaurant available for private parties...Hail & Farewell, birthday parties, professional group meetings, work luncheons etc...call 573-336-7829 for additional private party information and ask for Paula.
Here is a quick run down of our weekly specials:
Margarita Tuesday Specials;
Wednesday Kids eat free = 1 Adult per each child;
Thursday Wing Specials;
Friday Night = Men's Night;
Saturday Night Ladies Night.
Happy Hour is now 2 hours-Monday - Friday 5:00 - 7:00 p.m.
Beginning in May we will have Karaoke Friday & Saturday Nights --more information will be forthcoming.
We know you have a choice for your entertainment and we appreciate your patronage and support.
If you have suggestions, comments or questions, please do not hesitate to share with us--someone is always at the Lobby for your convenience. Everyone have a Great week.
____________________________________________
Assistance Association for the Missouri Veterans Cemetery Fort Leonard Wood
At the February 21, 2014 Board meeting, Maria Bancroft, Meramac Regional Community Foundation, provided the Board with information on managing funds.
The next Board meeting is scheduled for May 2, 2014, at 12 noon in the conference room of the Cemetery Administration Building. Final preparations for the Memorial Day Ceremony, May 26, 2014 at the Cemetery will be discussed.
The objective of the AAMVC is the management and use of donated funds or items to enhance the overall appearance and operation of the Missouri Veterans Cemetery at Fort Leonard Wood. The AAMVC continues to request donations for this purpose as well as the annual Wreaths Across America project.
If you would like to contribute or volunteer assistance, call the Cemetery office, 573-774-3496, or contact Virgie Mahan, Association president,
vmahan37@gmail.com, or 573-774-2982.
____________________________________________
USO Update

Upcoming Events

April 11th: USO 8th Anniversary Party 11am - 1pm
April 16th: WTU Luncheon, 11:30am - UTC
April 17th: WTU Grab & Go Breakfast, 7:30am - UTC
April 20th: USO Troop Easter Egg Hunt, 10am - UTC
April 25th: USO Family Game Night, 5pm-7pm
May 1st: WTU Cake & Ice Cream Social, 11:30am - UTC
____________________________________________

9th Annual Fort Leonard Wood Military Appreciation Day
The Mid Missouri Credit Union is gearing up for the 9th Annual Military Appreciation Night at the Springfield Cardinals Saturday, 14 June, 2014. Game time is 6:10 pm. We are currently working to secure the Joint Service Color Guard to present the Nations Colors. The Springfield Army Recruiters will be in attendance where 100 young men and women will take the Oath of Enlistment. We are currently working on a pre-game celebration honoring the men and women who are or have served our Country. Last year we were able to put over 2,000 service members and their families in a seat at no cost to them. We are currently seeking co-sponsors for this event. Not only will your generous donation provide an evening of fun for Service Members and their families, if you donate $500 or more, your business or organization logo will be placed on all marketing materials. I would be excited if you could join us in sponsoring this great event.

In 2013:
-We gave out over 2,000 free tickets which included free hot dogs.
-We sponsored the end of the game fireworks show which was amazing.
-We purchased Cardinal gear that we threw out to the crowd.
-We created memories that will last a lifetime.

None of this would have been possible without your support. Our fundraising goal for 2014 is $19,000.00.

Any support you can give to this great event would be greatly appreciated. I look forward to hearing from you. (573)329-3151 x8810
____________________________________________
Young Sprouts in the Park
The Pulaski Master Gardeners and Armed Services YMCA are organizing a free event in the Waynesville park for kids on Saturday, May 17, 2014, called "Young Sprouts in the Park."

Participating in this event could be a great way to showcase your company for more community exposure and, to that end, we would love to have The Chamber of Commerce & Chamber members participate as activity hosts. You might want to look over the list of suggested hands on learning activities to give you an idea of what we're looking for, but you don't have to pick something from the list - creativity is encouraged! If you would like to participate in Young Sprouts in the Park as an activity host, please let us know!
Join in the fun at the 1st Annual Young Sprouts in the Park Saturday, May 17th 2014, 10 a.m.-2 p.m. in the Waynesville City Park. Hosted by Pulaski County Master Gardeners & ASYMCA

Armed Services YMCA and the Pulaski County Master Gardeners are planning a FREE kids and family friendly event held in the Waynesville City Park in conjunction with national Kid to Parks Day and Armed Services Day.

We would love to have many individuals, businesses, and organizations participating in this event as Activity Hosts. Each Activity Host will create an interactive and fun outdoor, recreational, artistic, nature inspired, and/or horticulture-related activity and will host that activity for the duration of the event. We are also looking for organizations that could help provide and/or hand out beverages and light concessions and volunteers to help with the setup and take down on event day.

No sales transactions are allowed at this event, but activity hosts are welcome to provide their informational materials.
For more information and to get involved call Carrie Williamson at (573) 855-0128 or send an email TO mopcmg@gmail.com.
____________________________________________
BYOC (Bring Your Own Chair) Gardening Classes
Saturday April 12, 2014:
FREE presentation on Container Gardening, 10 a.m. - 12 p.m., at Pulaski Extension Center, 403 School Street in Waynesville.
The Pulaski County Master Gardeners invite you to a free hands-on presentation about growing edibles in containers. The class is being presented by advanced Master Gardener Carrie Williamson.
For more information, email the Master Gardeners at mopcmg@gmail.com, call 573-774-6177, or go to http://pulaskimomastergardeners.org.
Upcoming Class Schedule:
Saturdays, 10 a.m. to ~ Noon (or as listed below):
April 19 Propagation Clinic (9 a.m. to noon, $15 - there will be plant starts to take home)
April 26 Wormshop ($40 for class & a COMPLETE, take home worm composting bin or take the class only for $5)
May 3 Being Water-Wise in the Garden (FREE - we will be building rain barrels for the demonstration garden)
Thursday, May 1, 6 to 7 a.m: - Managing Wildlife in the Garden (FREE - Presented by Jim Braithwait, Missouri Dept. of Conservation)
All classes are at the Extension Center, 403 School Street, in Waynesville. We love that most of the classes are free! The fees from two classes will be used to help us continue to build the demonstration garden on the southeast corner of the building.
____________________________________________
Book Signing
On April 23rd, Arita M.L. Bohannan will besigning her book, Docket No. 76 in the Roubidoux Plaza on the Waynesville Square at Cellar 66.
Arita is a 1992 graduate of Waynesville High School, and raised an army brat. Mrs. Bohannan was the victim of abuse. Her personal story, paired with her love of the law, has provided her with a unique perspective that enhances her writing.
For more information contact Christia Morrissey at 573-774-2002 or email mvpmkt@yahoo.com.
____________________________________________
Open House at Webster University
Webster University educates professionals in the Rolla area through our accredited master's degree programs.
Join Us on April 24th from 5:00 p.m. to 6:00 p.m. at 1103 Kingshighway in Rolla. For more information contact 573-368-4569 or webster.edu/rolla
____________________________________________

Tour for Life 2014
The Waynesville Dog Shelter & North Shore Animal League America presents the world's largest cooperative life-saving adoption event. Save a life and adopt a new best Friend.
Come out to Wal-Mart in St. Robert on April 12th from 11:00 a.m. to 4:00 p.m.
For more information visit petfinder.com/shelters/MO191.html
____________________________________________
First Community Wide Water Baptism
This event is open to all believers in the St. Robert, Waynesville, Dixon, Fort Leonard Wood area who believe that Jesus Christ is the Savior and desire to be baptized. (Please wear loose dark attire if you wish to baptized.)
April 13th at the Greater Community Bapitist Church located at 21325 Hwy Y. Worship starts at 10:00 a.m. concluding with water baptism.
For more information contact Missionary Collazo at 573-528-7835 or Greater Community at 573-336-4477.
Guest Church: True Light Temple COGIC.
____________________________________________
Better Empowerment 2014
Join Pastor Miki Collier, Pastor Monica, and Prophetes Valencia Hines for three days of boldness, business, blessings, and much more on May 15th & 16th at 7:00 p.m. and May 17th from 10:00 a.m. to 1:00 p.m. at the Metamorphosis Outreach Empowerment Center; 1018 Missouri Ave., Ste 7. Cost is $35, for more information visit www.visitMOEC.com
____________________________________________
Columbia Youth Wins National Oratorical Contest $18,000 Scholarship
Thomas Goodin, State Commander of the American Legion announced today that Ashwath Kumar, a senior from Hickman High School in Columbia, Missouri capped a busy weekend of competition in Indianapolis by earning a total of $19,500 in college scholarships and first place in the national competition of The American Legion High School Oratorical Scholarship Program - "A Constitutional Speech Contest." His winning oration was titled "This Great House."
Kumar started the weekend as one of 53 state or territorial champions in the 77th annual contest. He advanced to the championship through three rounds of intense competition. He became the third Missouri student to win this national contest in the past four years.
Brandon Posner, a high school senior from Doylestown, PA, earned a $16,000 college scholarship with a second place finish, while Rachel Schartz of Humboldt, S.D. earned a $14,000 scholarship and finished third. The
scholarships account for a small portion of post-secondary scholarships that The American Legion, the nation's largest veterans organization, awards annually. Scholarships totaling more than $136,000 were awarded during the national competition in Indianapolis. Each of the 53 contestants received a $1,500 scholarship for each level of participation they complete at the contest. The American Legion also pays all travel and associated expenses for each contestant and one chaperone.
In his prepared oration Kumar urged Americans to protect the Constitution. Kumar's speech included: "Albert Einstein said, 'The strength of the Constitution lies entirely in the determination of each citizen to defend it. Only if every single citizen feels duty-bound to do his share in this defense are the constitutional rights secure.' As citizens of the United States, as the proud owners and builders of this great house, it is our responsibility to protect and maintain the Constitution: for ourselves, for each other and for all of posterity."
In each round of the weekend competition, orators delivered a rehearsed 8- to 10-minute address and a randomly assigned 3- to 5-minute oration on a constitutional topic, each without the benefit of notes and in front of a live audience, including the judges. The 2.4-million member American Legion developed the contest to encourage young people to improve their communications skills and to study the U.S. Constitution. This 80 year old program also presents participants with an academic speaking challenge that teaches important leadership qualities, the history of our nation's laws, the ability to think and speak clearly, and an understanding of the duties, responsibilities, rights and privileges of American Citizenship.
More than $3 million in scholarships have been awarded over the history of the contest. The contest meets the guidelines of the Missouri State High School Activities Association and appears in the Advisory List of Contest and Activities of the National Association of Secondary School Principals. The Legion contest is a partner with the National Forensics League, the Honor Society for High School Students in speech and debate.
For more information about the Oratorical Contest and the many other youth, family and veteran programs of the American Legion, please call 573-893-2353.