Happy 50th Anniversary to First State Bank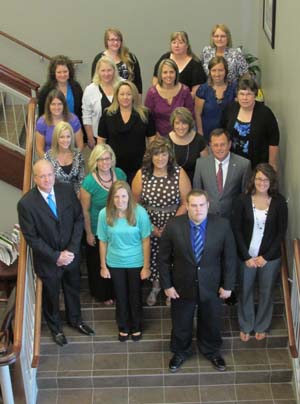 ____________________________________________
Female Veterans New American Legion Post Forming Just For You
If you are a female veteran (no longer serving on Active duty, Reserves, or National Guard) living in commuting distance of Fort Leonard Wood and have been looking for a group who shares your values and sense of patriotism then this new American Legion Post is for you. You will belong to the largest veterans service organization in the world but more importantly you will share in the benefits of forming an American Legion Post dedicated to the welfare and support of all female veterans in the Fort Leonard Wood area. Within the State of Missouri there are thousands of female veterans in addition to those still serving-we need to stand side by side to help one another.
All women American Legion posts already exist in St. Louis, Kansas City, and Columbia. These female Legionnaires come together each month to further the principles of the American Legion-Americanism, Veterans, Children & Youth, and National Security. They are women veterans helping women veterans.
WHEN: Saturday, September 13, 9:00 am
WHERE: St. Robert Municipal Center, 194 Eastlawn Ave.,
St. Robert, MO

Doors Open at 8:30 am

Questions can be called or emailed to Maria Vigil
Telephone: 573-855-1373 Email: pulaski.wv@gmail.com

____________________________________________
The ARK's Community Events
Back to school, back to work, and back to a routine; let the ARK Community and Sports Center be a part of your daily routine. We now offer new All-Inclusive memberships for great prices. If you are looking for a family friendly facility where you can work out and leave your children in a safe place, then the ARK Community and Sports Center is for you. We have a rock wall, basketball court, racquetball court, Cardio Theater, LifeFitness circuit training equipment, indoor track, and an onsite babysitting service. In addition, we are proud to offer Les Mills group fitness classes like BodyPump, RPM, BodyFlow, BodyCombat, and CXWORX. For more information about our new All-Inclusive memberships please contact the ARK.
August 23, 2014 at 11:10 the ARK Community and Sports Center will present the new release of BodyCombat. New moves and new music are on tap for Saturday morning. Class is free so bring a friend and come out and experience your inner warrior. Call the ARK Community and Sports Center to reserve your spot.
"Fall into Fun" with Kid's Night Out. No Parents Allowed!!! at the ARK Community and Sports Center. Mark your calendars for September 5, 2014 from 6pm-9pm. Three hours of fun and dinner is included. 60 spots are available. All spots must be reserved and paid in advance. Cost for this event is $5 for members and $10 for non-members. Please call the ARK to reserve your spot today.
The ARK Community and Sports Center now offers After Hours Parties and Over Night Lock-Ins. Call the ARK Community and Sports Center and ask for Donalisa or Jessica.
We now offer birthday party time slots on Sunday. Contact the ARK for information
Call the ARK at 573-337-9128.
____________________________________________
Community Carnival and Blues on the Porch Event
High 5 Community Development Corporation is hosting a FREE community carnival, Saturday, August 16, 2014 starting at 1 pm…There will be bounce houses, face painting, balloon art, free food, prizes, games and much more; plus a FREE blues concert starting at 4 pm. This event is sponsored by local organization and businesses throughout Pulaski County. For more information or to donate to this event please call, 573-336-2336 or 573-528-7614.
____________________________________________
USO Update
Updated needs for August & Sept Mobile volunteer needs
Wednesday--August 27---FLW
Friday-- August 30---FLW
Saturday-Sunday-- Sept 6 & 7 Whiteman & Belton( KC) (overnight trip)
Friday, Sept 12--Scott AFB. *there are 3 events possible this day. IF we can get enough volunteers to work. all groups are under 200. all should be easy and fun!
Sunday--Sept 14--KC (overnight trip)
Please RSVP to Lisa Nelson: lnelson@usomissouri.org

Shifts Needing Filled This Week

This week we have a few open shifts and would love if we could fill these, if you can help fill in please let us know!
Friday, August 22; Family Game Night 4:45 pm - 7 pm (8)
Saturday, August 23 3 pm - 7 pm (3)
Sunday, August 24 12 pm - 3 pm (2); 3 pm - 6 pm (4)

**Please call 573-329-2039,
if you are able to fill any of these shifts. We appreciate any support we can get in filling these shifts this week.**
____________________________________________
Public House Brewing Company
Expansion:
Update -- Another beautiful day in the Ozarks. Check out the progress on the new brewery! Remember, you can see the ongoing work by clicking the link. It updates every 5 minutes. Enjoy!
Seasonal Release:
Strawberry Wheat -- On tap now. This strawberry infused American wheat beer is everything summer is supposed to be. Get it while supplies last.
Events:
Public House Trivia -- Trivia is held every Monday at 7:30pm unless otherwise noted. Prizes awarded every week to top teams.
Crepe Escape at Public House -- August 22nd and 29th and September 5th and 12th from 5-8 p.m. -- Crepe Escape will be set up in the Public House parking lot to whip up some deliciously sweet and savory crepes. Where else can you get a crepe around here? Mark your calendars and satisfy your crepe craving.
Sybill's St. James and Public House Brewing Co Present: A Summer Beer Dining Experience -- Thursday, August 28th at 5:30 p.m. -- The perfect pairing between the best local foods and the best local beers. We hope to see you in attendance as we talk and eat our way through four hand selected courses each paired with a Public House beer. The event will take place at Sybill's Restaurant in St. James. Call 573-265-4224 for reservations.
Public House Brewing Company Presents: Dana Cooper live at the Vineyard Cottage -- Thursday, September 4th at 7 p.m. -- Dana's mixture of flat-picking, finger-picking and percussive strumming style is legend among other guitarists. An expressive singer, his voice is ageless, evoking a rich lifetime of experience. This intimate concert will take place outdoors in the beautiful vineyard setting at the St. James Winery Vineyard Cottage. Wine selections from St. James Winery and Public House beer will be available for purchase. Feel free to bring a picnic basket. Tickets are $15 and are on sale now at Public House.
Firkin Tuesday! -- September 9th at 5:30 p.m. -- Join us for our special monthly small-batch release.
St. James Winery Presents: Movie in the Vineyard -- GHOSTBUSTERS -- September 20th at 7 p.m. -- Join us for a ghostly good time at the St. James Winery Vineyard Cottage and watch a great flick under the stars with your favorite wine from St. James Winery and favorite beer from Public House. Maybe you've already seen GHOSTBUSTERS. I mean, who hasn't? But you haven't seen it like this. Bring your favorite lawn chair and maybe a blanket just in case. Wine and beer available for purchase. The movie is free! Doors open at 7pm and the movie begins at sundown.
Oktoberfest 2014 -- Saturday, September 27th from 12-5pm Join us for our 4th annual Oktoberfest. Nearly 20 breweries and 5 wineries will be participating this year. We're excited to announce two ticket options for your tasting pleasure:
General Admission: $25 in advance or $30 the day of the event Includes souvenir tasting glass to take home and access to the tasting tents and live music from 1pm to 5pm. Food will be available separately for purchase from Knights of Columbus food tent. VIP Admission: $40 available to the first 100 purchasers and only sold in advance -- Includes VIP tasting glass, one meal ticket for the Knights of Columbus food tent, and exclusive access to the tasting tents for the 12-1pm hour before general admission gates open. Taste what you want before the rush at 1pm and get a chance to chat with the brewers and winemakers at a more leisurely pace than when general admission gates open.
A portion of this year's proceeds will benefit The Community Partnership. To learn more about this wonderful organization visit http://thecommunitypartnership.org/. Tickets are on sale now at Public House and available online via our website. Just click here, then click on the "Buy Tickets Now Button." Need a place to stay after the festival? You can crash for cheap at Super 8 in Rolla! For the third year they have kindly agreed to offer our attendees a special rate of $57.88 plus tax. Reserve your room in advance directly with the hotel and when you check in tell them you are there for Oktoberfest at Public House and you will get the special rate. We also have physical vouchers available at Public House for the special deal good on 9/27 only. (The special rate cannot be applied if booked through alternate websites like expedia or hotels.com)
Thanks Super 8!

Upcoming Live Music

8/22 -- Limited Addition (8pm)
8/23 -- Don Hayes (8pm)
9/4 -- Erin Hamacher (5:30pm)
Dana Cooper (7pm)
9/5 -- Dixie Union (8pm)
9/6 -- Bliss Hippy (8pm)
____________________________________________

SOP Annual Meeting
On Thursday, September 4, we will hold our Annual Meeting at The Ark Community and Sports Center, 25625 Highway 17, Waynesville, MO (on the north side of I-44).
The meeting is open to all residents in the region and stakeholders throughout the state. There is no registration fee. We hope you will participate.
The meeting will begin at 8:00 a.m. with registration, networking, and a light breakfast. The opening presentation will be at 8:30 a.m.
In the morning Tim Ford, CEO of the national Association of Defense Communities, will discuss the importance of regional support for military installations and what other communities are doing to support their installations. We will then have four breakout sessions, focusing on a Strong Region, to get updates on air transportation, energy, healthcare, and K12 education.
Lunch, like breakfast, will be free. We have invited US Senator Roy Blunt and US Senator Claire McCaskill to be keynote speakers. They will discuss the importance of Fort Leonard Wood to national security and the policy environment in which Defense decisions will be made.
In the afternoon we have invited the Honorable Katherine Hammack, the Assistant Secretary of the Army for Installations, Energy and the Environment (ASA/IE&E) to describe what is happening across the Army with respect to installations. Dr. Rebecca Johnson from Fort Leonard Wood has been invited to provide an installation update. Mike Dunbar, the Chairman of the Missouri Military Preparedness and Enhancement Commission, will moderate a panel that will discuss state initiatives that affect Fort Leonard Wood and other military installations in Missouri. We have also invited our area state legislators to share their perspective on state support for Fort Leonard Wood and the region.
We will also have three breakout sessions focused on a Strong Fort Leonard Wood. They are Marketing the Region and Fort Leonard Wood, Community/Military Partnerships, and Focus on Military Families. The meeting will end at 4:30.
The Ark's address is 25625, Highway 17, Waynesville. Exit I-44 at the Buckhorn exit (153). Take Highway 17 north about 1/2 mile to get to the center.
SOP Reception
On Wednesday, September 3rd, there will be an SOP reception at the Hampton Inn in St. Robert. This pre-meeting event will provide both a networking opportunity and a chance to meet some of the presenters that will speak during the annual meeting. Reception will begin at 6 p.m. and last until 7:30 p.m. Appetizers and beverages will be provided. The event is free and open to the public. Please sign up for the reception when you pre-register.
To pre-register, please call the University of Missouri Technology Park at 573-329-8500 or by sending an e-mail to: Erin.Kaberline@sustainableozarks.org by August 28th. More details are available on the SOP website: www.SustainableOzarks.org.
The Sustainable Ozarks Partnership (SOP) is building on the Fort Leonard Wood region's strong past and preparing the region for a sustainable future. We are a nonprofit organization working to bring all of the region's stakeholders to the table to drive regional development and advocate for new or expanded military and federal missions. Our region offers a high quality of life, excellent education opportunities, and easy transportation access. We are transforming the Fort Leonard Wood region.

____________________________________________
Joy of Caring
Colton's Steakhouse has teamed up with the Joy of Caring Cancer fund and is selling shirts for $15.00. 100% of the profit will be donated to the Phelps Regional Foundation to help with families of the surrounding counties dealing with this illness.
Joy of Caring Cancer Fund was started by Renee Joy Heaven. Joy learned she had breast cancer in May of 1992, the month that her husband lost his job of 21 years due to a plant closing. In addition to losing his job, the family also lost their health benefits. Joy and her family were consumed with worry and stress about how to pay the medical, household and family expenses. Joy realized that other cancer patients must experience the same worries and stress, and she was inspired to find a way to help others like her.
Joy's vision of having resources available for cancer patients became a reality when she was hired by the PCRMC Bond Clinic as their first Cancer Care Coordinator in 1995. Through the Bond Clinic's support, Joy started the Joy of Caring Cancer Fund in 1995 to support local Cancer patients.
Sadly, Joy lost her battle with cancer in 1996, but her mission of caring lives on in all the cancer patients who still benefit from her hard work, dedication and compassion. Joy once said, "Along with my family, the Joy of Caring Fund is an accomplishment I'm most proud of."
____________________________________________
Hicks in the Sticks
The Dead Rabbit Saloon and Budweiser presents The LACS with special guests Special 20, ChrisiAna, and Southern Edge on September 6th. Gates Open at 12:00 p.m. at the Shrine Club Park in Buckhorn. Tickets are $15 in advance, $20 at the gate. Other activities include Redneck games, jeep and bike show, chicken wing cookoff, redneck wedding, and lots more. Bring your own seating, camping available. Visit facebook.com/deadrabbitsaloon for more information.
____________________________________________
3D Archery Tournament
The Outdoor Adventure Center is hosting their annual Archery Tournament on August 16th from 10:00 a.m. - 3:00 p.m.
Tournament will be a normal 3D shoot, a great opportunity to test your capabilities in judging yardage and shot placement. Registration will begin at 10:00 am. Cost is $10 adults / $5 youth, enter to win a free bow!
Outdoor Adventure Center is located in Bldg. 2290 FLW K.
For more information call 573-596-4223.
An additional tournament date is set for August 30th.
____________________________________________
Come out for the Reveal of a Cool Addition at Hoppers Pub
Hoppers Pub has put together a cool addition and would like to do the reveal on Friday, August 22nd at 5:00 p.m. We have had some talented craftsman work on this special project and it is complete. Hoppers Pub is very excited to share and invites chamber members, city officials, tourism along with the family and friends. The artist will be there.
____________________________________________
Assistance Association for the Missouri Veterans Cemetery
Announcing the Annual Meeting of the Assistance Association for the Missouri Veterans Cemetery at Fort Leonard Wood scheduled for 5 pm Friday, September 19, at the Cemetery. The meeting is open to all persons interested in the Cemetery and the Association's mission of improving its appearance and operation. Association President, Virgie Cole-Mahan welcomes any questions you may have; she may be reached at 573-774-2982 or vmahan37@gmail.com.
____________________________________________
Curves Hosts National Open House Week in Honor of "Me Time"
Recent Survey Finds Nearly Seven in Ten Women Don't Feel They Have Enough "Me Time." Curves of Waynesville Offering Free Workout and Tour of the "All New" Curves September 15th-20th
Curves International, Inc., http://www.curves.com the largest chain of fitness centers for women in the world, announced that participating Curves are hosting an Open House the week of September 15-20, 2014 and new members can receive 30 days free,* in addition to a free workout. The Open House week provides women with the opportunity to check out their local "all-new" Curves and take some important "me time" for themselves.
According to a new survey conducted online by Harris Poll on behalf of Curves, nearly seven in ten (67%) women responded they do not feel they have enough "me time" in a given week for their personal interests and hobbies. Fitness and wellness activities such as going to the gym or exercising rank among the top four ways to spend "me time," but six in ten (57%) women feel that typical gym workouts are too time-consuming. Fortunately, Curves offers an efficient, effective 30-minute option that allows women to work out - with friends- and still have extra "me time" for other hobbies and interests.
During the Open House week, new members will have the opportunity to work out for free on the Curves circuit, including experiencing Curves Workouts with Jillian Michaels, which are full body workouts that change each month. Those who join that day will receive 30 days free on their membership. In addition, participating Curves locations will offer free health assessments, healthy snacks and other raffles and giveaways in celebration of the Open House.
"As women look for efficiencies amidst busy fall schedules and aim to maximize their 'me time,' a 30 minute Curves workout is the perfect option," said Mike Raymond, chief marketing officer at Curves International, Inc. "The circuit affords women a great full-body workout while still leaving time for other personal interests. We encourage prospective members to come and check us out this month, to see what's new and different at Curves."
Curves is "all new" with many new offerings including, the addition of Curves Workouts with Jillian Michaels, new lifestyle apparel, protein bars and dessert bars as well as new state-of-the-art circuit equipment.
For more information about Curves, please visit www.curves.com. Curves of Waynesville is located at 1104C W Historic 66 and will be offering activities including mini-manis and facials, jewelry show, stress-release therapy, Regional Blood Mobile Drive, blood sugar draws, body-fat analysis, blood pressure and heart-rate readings, Health Food detoxify brushing, food prepping and storage, Zumba on the Circuit/in the parking lot. There will be door prizes and individual vendor drawings.
*Enrollment fee required. Offer expires 9/30/14 and requires joining same day as first workout for a minimum 12-month recurring billing contract. Enrollment fee and monthly fees vary by location. Valid for new Curves members only. Not valid with any other offer or discount. Curves workouts with Jillian Michaels only offered at participating locations. Valid at participating locations only. No cash value. © 2014 Curves International, Inc. (1407)
Methodology
This survey was conducted online within the United States by Harris Poll on behalf of Curves / Jenny Craig from June 30 - August 4, 2014 among 1,078 women ages 18 and older. This online survey is not based on a probability sample and therefore no estimate of theoretical sampling error can be calculated. For complete survey methodology, including weighting variables, please contact Aliza Rothman at arothman@curves.com.
About Curves International, Inc.
Curves International, Inc. is the largest chain of fitness centers for women in the world and is famous for its 30-minute Circuit with a Coach that works every major muscle group with strength training, cardio and stretching. The new Curves Workouts with Jillian Michaels** offer cutting-edge total body workouts that feature the Curves strength training machines in conjunction with functional bodyweight-based exercises that ramp up metabolism and transform physique. With Curves Complete, women have a fully integrated, personalized weight loss and weight management solution that includes the Curves fitness program, customizable meal plans and one-on-one coaching and support. Curves Complete Coach has completed a certification program developed in conjunction with Cleveland Clinic, one of the most respected hospitals in the country. Curves is committed to providing women with the tools necessary to empower them to live more fulfilling lives. For more information please visit curves.com. **Scheduled workouts vary by location.

____________________________________________
Movie in the Park
The Fort Leonard Wood Directorate of Family, Morale, Welfare and Recreation plans to host a Movie in the Park at 9 p.m., August 22nd at Colyer Park. The scheduled movie showing is "Despicable Me 2." The event is free and open to the public. For more information, call 573-596-6913. Click here.
Come early and get the ride of your life. Ride the Mechanical Bull. FREE - 6-8pm at Colyer Park. Plus MEET Bull RIDER Justin KOON.

____________________________________________
Kids' Harbor Boat Races
Races include homemade boat races, paddle boat races, Inflatable race, canoe/kayak races, and stand-up paddle boards. Entry fee for each race is $25.
For registration or more information please visit www.kidsharbormo.org or call 573-348-6886.
____________________________________________
Childcare Providers needed
STM Christian Daycare and Preschool Academy is seeking immediate hirer of several childcare providers. The positions are full and part time, with a starting salary of $8.00 per hour. Experience is preferred but not required, will train. Applicants must meet the following requirements:
-Must be 18 years of age or older.
-Possess a means of transportation.
-Complete the Missouri / National Registry Background Check (within 10 days of being hired).
-Must be able to work and function in a high pace environment.
-Possess a current physical (within 20 days of being hired).
-Possess traits of integrity, trust, flexibility, accountability and dependability.

We are asking that only serious applicants apply.
Please Contact:
Margaret Curry, Campus Director
573-528-7614 or 573-336-2168
577 Old Route 66
St. Robert, MO 65584
shekinahtm@yahoo.com

____________________________________________
Army ten miler time trials

The Fort Leonard Wood Sports Department is hosting the final time trial to qualify for the team that will represent
Fort Leonard Wood at the Army Ten Miler in October.
Time trial will start promptly at 6:00 a.m. It will be held on the Mickey Zaun Troop Trail. Parking is available at Abrams Theater near the start point.
Fastest four men and two women will qualify for the team participating in the Active Duty mixed category.
All expenses will be paid for the team made up of Active Duty Service Members.
Any further questions please contact Danny Howell at 596-7444 or via email at danny.r.howell4.naf@mail.mil

____________________________________________
Why become a Leach Theatre Season Ticket Subscriber...?
-Better Seats
-Assured seating for sold out events
-Ability to exchange your tickets if something comes up
-Save money,up to 24% on full CPAS package. That is like getting two shows for FREE!
-Payment Plans
-To learn more about become a Leach Theatre season ticket subscriber, click here.
____________________________________________
Fort Wood Hotels- Comfort Inn
Fort Wood Hotels is pleased to announce that Aaron Ganiban has accepted the position of Maintenance Engineer at the Comfort Inn! Aaron has been with the hotel since April of 2013 as a Room Attendant and has done an amazing job. Along with his Room Attendant duties he has filled in with odd jobs in the Maintenance world so we are very pleased to step him up full time as our newest Maintenance Engineer.
Aaron has varied background in electrical work, construction work, restaurants, and management roles.
He will begin the transition into the Maintenance position in the coming weeks so please help us welcome and congratulate him!

____________________________________________
Women's Health Expo
On October 3rd from 9:00 a.m. to 3:00 p.m. at the Main Post Chapel, on Fort Leonard Wood, the General Leonard Wood Army Community Hospital Health Promotion Director is hosting a Women's Health Expo which is open to military beneficiaries and the public. This expo is to promote breast cancer awareness and prevention of domestic violence month. Contact Phyllis Jones at 573-596-0491 or email phyllis.j.jones.civ@mail.mil
____________________________________________
Conceal Carry Class at Waynesville Gun & Pawn
The next Conceal Carry Class is August 22nd and 23rd. The class is taught by Advanced Performance Shooting, hosted by Waynesville Gun and Pawn (and owner Don Bordwell is one of the instructors). The classroom portion is 6-10 PM at the store (105 Historic 66, Waynesville), then the class will meet at 8:00 Saturday morning and caravan to the range for qualification shooting and practical instruction. Everyone will be back to the store by 12:00 for graduation. Cost is $70. The State of Missouri requires participants to qualify with both a semi-auto and a revolver, loaners are available upon request. Please call the store at 573-774-7800 to book a seat, slots are limited.
____________________________________________
Seventh Annual Shrine Club BBQ Cook-off
The Shrine Club is hosting their seventh annual BBQ cook-off on August 22nd at 9:00 p.m. and 23rd at 9:00 a.m. at the Shrine Club park in Buckhorn. Cost is $8 per adult, $5 per children ages 6-12, Free for children 5 and under. For more information contact Kevin Cordry at 573-586-9801. Fun events for all ages.
____________________________________________
Grand Opening Gala
B&B Theatres is hosting a Grand Opening Gala on Friday, August 29th at 5:45 p.m. The first 50 customers will receive a goodie bag. B&B is giving free popcorn August 29th and 30th with movie ticket purchase. Come take part in the Red Carpet Ribbon Cutting Ceremony at 1200 GW Lane.