.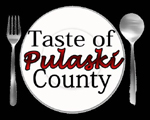 Taste of Pulaski County and Basket Auction
This year the Waynesville-St. Robert Chamber of Commerce's Annual Taste of Pulaski County & Basket Auction to be held on Saturday, March 29th from 11 a.m. to 4 p.m. at the St. Robert Community Center. Restaurants will be handing out fine samples of all their favorite menu items during this event. A variety of specialty baskets from area businesses will also be up for bid. Among baskets filled with chocolates, themed baskets, or baskets with great consumer value, early shopping for that special gift basket will be a cinch. A silent auction and door prizes are also included in this fun filled event. Doors open 11:00 a.m. with the Auction beginning at 12:30 p.m. Come early to browse the wonderful items for bid and start sampling the delicious food offered by area restaurants. Tickets are $10 for adults, $5 for children 12-5 years old and children 4 and under are free. Pre-event tickets are available at the Chamber office.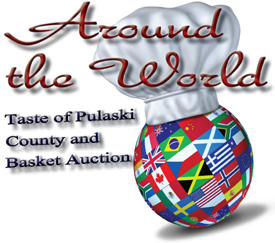 What Will Be in Your Basket? - Have you thought about what you'll be putting in your basket? All items submitted are greatly appreciated and help to make this event the largest and primary fundraiser the Chamber holds throughout the year.
Don't hesitate to contact the Chamber and let us know if your business would like to donate a basket, gift certificate or silent auction item, call (573) 336-5121 or e-mail chamber@wsrchamber.com. To ensure that your basket is listed in the printed event tab the deadline for baskets is Friday, March 7th.

WANTED: Taste of Pulaski County and Basket Auction Sponsors
The chamber is needing two (2) more $500 sponsors for our Annual Taste of Pulaski county & Basket Auction.
Sponsorships are a great way to market your business and show support of this fun event. All sponsors will have their name in press releases, logo on flyers and advertising, logo and link on the event website, and an ad in the printed program.
Click here for the sponsorship form and email it to chamber@wsrchamber, fax to 573-336-5472 or call 573-336-5121. Don't Delay.
Tour of Fort Leonard Wood
On April 10th AUSA, Committee of Fifty, Friends of the Fort, Support the Fort and Phelps for the Fort will be offering a tour of Ft. Leonard Wood beginning at 8:30 a.m. and ending at 2:30 p.m. We are excited to be able to offer the community this opportunity to tour Fort Leonard Wood and witness the transformations that have impacted our communities in so many positive ways over the years. The tour will be leaving from the Waynesville-St. Robert Chamber Office, located in the lower level of the Visitor's Center at 137 St. Robert Blvd., Ste. B in St. Robert, as always please remember to park in the back of the building. Lunch will be provided by AUSA during the tour. Space is very limited so please R.S.V.P. to (573) 336-5121/573-336-0221 or email chamber@wsrchamber.com no later than April 4th. Click here for flyer.
Community Forum
The Chamber will host the annual community on April 14th in the library of the Waynesville High School. The panel discussion will begin at 6:30 p.m. Speakers for the evening will include representatives from Fort Leonard Wood, St. Robert, Waynesville, Waynesville R-VI School District, and Pulaski County. The community is invited to attend the forum and will have the opportunity to ask questions. Questions must be submitted in person. This event will be broadcast on Channel 12.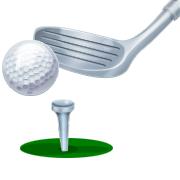 Chamber Four Person Scramble
The Chamber golf tournament is back! The Chamber is excited for the upcoming Four Person Scramble on April 24th 2014. The tournament will be an 18-hole four person scramble with a shotgun start at 10:00 a.m. at Piney Valley Golf Course on Fort Leonard Wood. Team check-in will be at 9:00 a.m. A meal will be provided for teams after they complete the tournament. Awards will be given after the tournament is complete as well as door prizes donated by Chamber members.
Registration for teams is now open. There is a $50 entry fee per person. Mulligans will be available for $20 per team and a 5' String is $10 per team. There is a limit of 30 teams so register today! Registration forms and entry fee payment must be received at the Chamber office by April 15th.
Event sponsorships are available!
Hole sponsorships are available for $100 per hole. A hole sponsor will receive a sign at the hole and there business will be listed on the event web page and in all press releases.

Cart sponsorship are available for $50. Cart sponsors will have a sign on a cart and will be listed on the event web page.

The Chamber is also collecting door prizes. Chamber members who donate a door prize will be announced at the event and listed on the event web page.
Click here for a copy of the sponsorship form.
Mark Your Calendars! 2014 Chamber Calendar of Events
For more information about any of the upcoming Chamber events click here or contact the Chamber office.
2014 Sponsorship Opportunities
Click here for information on 2014 Sponsorship Opportunities. For more information on any Chamber event contact the Chamber office at 573-336-5121 or email chamber@wsrchamber.com.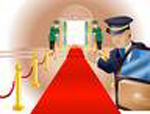 Community Leadership Awards Banquet
The Waynesville-St. Robert Chamber of Commerce 2013 Citizen of the Year is Ollie Jackson. Ollie was nominated by the Rotary Club of Pulaski County.
The Chamber had 182 in attendance at the Community Leadership Awards Banquet held at the St. Robert Community Center. During the banquet they handed out 89 Community Leadership Awards.
The 2013 Organization of the Year, the Leonard Wood Institute worked with the Chamber and other organizations, businesses, and government officials to coordinate an Army 2020 PEA Strategic Planning meeting, letter writing campaign, and worked on the presentation given at Army 2020 Listening Session. These actions resulted in the adjustment of proposed changes from a reduction of 3,900 soldiers and civilian workers to 885.
The 2013 Volunteer of the Year, Richard Baptist was recognized his dedication to the success of the Chamber and its largest fundraiser serving as the auctioneer at our Taste of Pulaski County and Basket Auction. With his energy and enthusiasm he has raised thousands of dollars for the chamber over the years.
At any Chamber function you're sure to see the bright blue jackets worn by the members of the Chamber's Ambassador Club. They are the Chamber's army of volunteers and it is a special privilege to honor them for their dedicated service. The 2013 Ambassadors of the year is Russ Dixon. The Ambassador of the Year is determined by attendance at Chamber functions throughout the year. Russ attended 97 out of 105 Chamber events during 2013. The Chamber also recognized Ambassadors Janel Rowell, R.J. Dick and Alana Hancock and presented them with a five year service pin.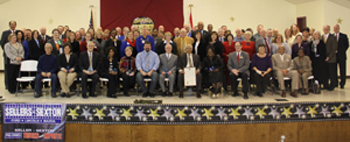 To view more photos from the evening click here.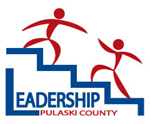 Leadership Pulaski County
On February 20th the Leadership Pulaski County class attended their sixth and final session focused on healthcare, social services, environment, and public safety. The day began with panel discussions focused on environmental conservation, public safety, and disaster preparedness. The afternoon included tours of the Waynesville Rural Fire Department, Mercy Medical Clinic, VA Clinic and the 911 Center.
Following the session, the Leadership Pulaski County class attended a special graduation dinner to celebrate the completion of the program.
Click here to view photos from the session and graduation.
Information on the second Leadership Pulaski County class will be available soon!
Chamber Business Showcase
On March 4th the Chamber Surprise Patrol visited two Chamber member businesses to recognize them as the Chamber Business Showcase member recognition program recipients for March. The March Business Showcase recipients are Bank of Crocker - Waynesville Branch and Wells Fargo Home Mortgage. The Surprise Patrol visited both businesses and dropped off a special sign that will be displayed throughout the month. Business Showcase recipients are drawn each month. The Surprise Patrol will be out again in April to recognize the next recipients.

Offer a discount or special offer to your business through the Chamber's Shop Local Key Tag.
Anyone with a Shop Local Key Tag can visit a participating business and receive a discount or take advantage of a special offer. Key Tags are FREE and available at all Chamber events as well as the Chamber office. Key Tags will be available during regular office hours at the Chamber office.

This program is open to any type of Chamber business including retail, restaurants, fitness, service businesses, or any business wishing to give a special promotion to residents. Your discount or special promotion needs to be good through December 31, 2014. Please fill out the form below with your discount or special offer to indicate that you are interested in participating in this program.
For more information about the Shop Local Key Tag Program visit www.keepitlocal.biz.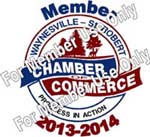 Chamber Membership E-Plaque
The Chamber would like to introduce the new E-plaque now available to members. This plaque may be placed on your business web site or social media page to increase your credibility through the recognition of Chamber membership. E-mail info@wsrchamber.com for the web site code and instructions to add the new Chamber Membership E-plaque to your company web site.
Character Word of the Month
The Chamber is partnering with the Waynesville School District in promoting their character word of the month. Each month a character word is chosen to be the focus of character development. The Chamber is encouraging its members to apply this word within their business each month. Businesses can put up a sign or put the word on their marquis as well as encourage employees to focus on what the character word means to them.
The character word for March is:
Confidence is full trust; belief in the powers, trustworthiness, or reliability of a person or thing; the belief in oneself and one's powers or abilities; self-confidence; self-reliance; assurance; or certitude; assurance.
What does confidence mean to you, your business, and the community?