Veteran's Memorial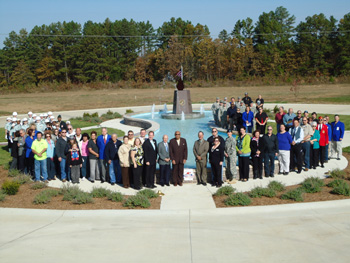 The idea to build a Memorial began in 1996 when David Shafer proposed the idea to the American Legion Post 331. In 2003 the Chamber was asked to take over the project and got straight to work by holding a design contest. John Jacob was the artist with the winning design and we are happy to have him with us today to celebrate.

In 2005 talk began about a Veterans Cemetery and the need for the State of Missouri to find the necessary funding to match the federal grant and bring the cemetery here. The Chamber organized a petition and collected 700 signatures to show the community support and as we can look around and see the State found the funding. Speaking of funding, we held Veterans' Balls and fundraising drives; we've sold yellow ribbons and these bricks to raise the $50,000 needed for the construction of this monument.
For all the work, time, and dollars that went into this project the Chamber thanks you-the community. We can plan and fundraise all we want but it's all moot without your support. Thank you.
Veteran's Memorial Dedication Ceremony