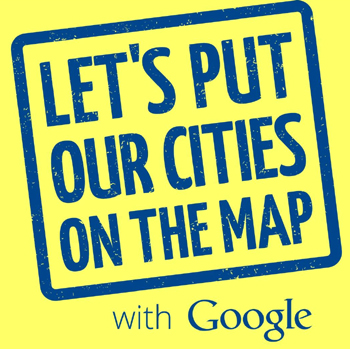 Put my Business on the Map Workshops!
These workshops are hosted by the Chamber and sponsored by Google. These workshops provide an opportunity for all Chamber Members to learn how to insure that their business can be found on Google with accurate and up to date information.
The Put my Business on the Map Workshops are held at the Chamber of Commerce in the Pulaski County Tourism Bureau Meeting Room.

The workshop is from 9 a.m.- 10 a.m. A Chamber representative will stay later for any further questions. Bring with you a laptop or smart device.
The workshops are FREE for all Chamber Members!
We're partnering again with Google to help put member businesses in our cities on the map - including yours - by hosting a workshop on Monday, July 23, 2018.
Businesses that have complete business information online are twice as likely to be considered reputable by consumers. When people can find information about local dentist, dry cleaners, and your business, our community becomes even stronger.
RSVP today for the free Let's Put Our Cities on the Map workshop by calling 573-336-5121 or email chamber@wsrchamber.com or register online.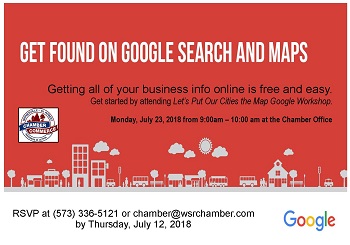 Photos from previous workshops