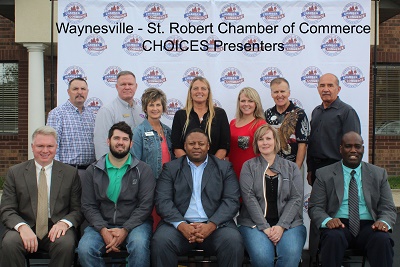 The Waynesville-St. Robert Chamber of Commerce and Rotary Club of Pulaski County are pleased to bring the CHOICES Program to the eighth grade students of Pulaski County. The CHOICES Program is a highly participatory classroom seminar, presented by local volunteers from both the Chamber of Commerce and Rotary Club. It uses interactive exercises to help students learn the impact of their choices and how to take control of their lives through wise decision-making when it comes to time and money management as well as education.
The success of this project can be summed up best in the words of a student after completing the CHOICES presentation, "It (self-discipline) means pushing myself to do the right thing even if it's hard." By focusing on real world topics such as time management, job opportunities, self-discipline, and staying in school CHOICES drives home the lessons that are so often overlooked.
The Chamber and Rotary Club presented CHOICES to every school district in Pulaski County during the 2016-2017 school year.
Sponsors:
Baymont Inn & Suites
Carey Heitman State Farm Insurance
Citizen's Bank of Newburg
Colton's Steakhouse and Grill
Columbia College
Daily Guide
Di Trapani's Italian Bistro
Elite Land & Title
Flat Branch Mortgage
Fort Wood Community Spouses Club
Fort Wood Hotels
Infuze Credit Union
Kayleen Photography
Laclede Electric Cooperative
Lamb's Donuts
Ozark Technical Community College
Pulaski County Health Department
Pulaski County Sewer District
Rotary Club of Pulaski County
Security Bank
Sellers-Sexton
Stryker Orthodontics
The Maries County Bank
Wal-Mart
CHOICES Presenters: Jesse DeGraftenreed III, Sean Wilson, Jesse Rivard, Laura Schoephorster, Janel Rowell, Shauna Hauston, J.P. Flores, Rosalind Pride, Russ Dixon, Don Murray, Michelle Beckley, Marianne Ward, George Heib, Nathalie Brech, Ollie Jackson, Rosalind Pride, John Moore, Annette Watson, David Lowe, Theresa Steward, and Deborah Baker.


Sponsors and presenters were recognized the January 17th Rotary Meeting.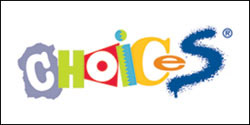 If you would like to get involved as either a presenter or a donor please contact the Chamber office at 573-336-5121.