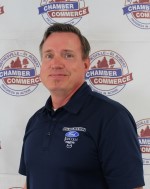 Christopher Wilkins
Christopher Wilkins is an owner and manager for Sellers-Sexton, Inc., a franchised Ford, Lincoln, Mazda car dealership in St. Robert, Missouri. He provides direct leadership for a team of advisors, technicians, parts personnel, and fellow managers while adhering to franchise requirements and expectations. By developing and maintaining good processes he successfully manages customer expectations and the customer experience within his store. Prior to his current role, Chris has supported the dealership's operations in both the Sales and Parts departments, managing retail, and wholesale operations.
Before joining Sellers-Sexton, Chris enjoyed a successful career as the Creative Director supporting corporate branding and media operations at the Nashville Area Chamber of Commerce in Nashville, Tennessee. While serving a 10 county region including and surrounding the metropolitan Nashville area, the Nashville Chamber lead the way in business initiatives for state and local economic development, healthcare, government relations, entrepreneurial business, technology start ups, and national sporting events. Chris was responsible for a multi-million dollar marketing budget supporting the Chamber's initiatives.
Chris began his career at GS&F, one of Nashville's largest full service advertising agencies. At GS&F, Chris designed campaigns for national accounts such as: Bridgestone/Firestone, Camping World, Dupont, HCA, Tennessee Titans, and TriStar Health Systems.
Chris earned his Bachelor's degree from Middle Tennessee State University in Murfreesboro, Tennessee. Chris is active in his church and serves in the music ministry. Good coffee, guitars, and mountain bikes are a few of his favorite things. Chris resides in Rolla, Missouri with his wife Casie and their four children; Chance, Cruz, Camden, and Chyler.