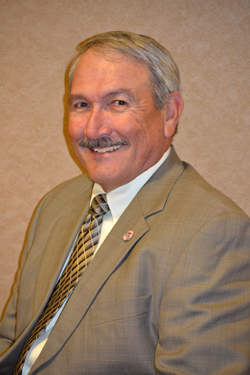 Philip Tackett
CW5(R) Tackett was born in Ashland, Kentucky on 18 September 1950. He entered the US Army in November 1972, as an enlisted service member. He was appointed an Army Warrant Officer on 4 December 1978. CW5 Tackett's assignments have included: Personnel Specialist, Evidence Custodian and Laboratory Examiner, US Army Crime Lab-Pacific, Camp Zama, Japan; Special Agent Criminal Investigator, Ft Campbell District, 1ST Region, USACIDC, Ft Campbell, KY; Special Agent Criminal Investigator, Yongsan District, 7th Region, USACIDC, Seoul, Korea; Drug Suppression Team Chief, General Crimes Team Chief, Assistant Operations Officer, Ft Campbell District, 1ST Region, USACIDC, Ft Campbell, KY; Team Chief, Mannheim Resident Agency, 2d Region, USACIDC, Mannheim, Germany; Major Procurement Fraud Investigator, Economic Crime Resident Agency, 1st Region, USACIDC, Ft Meade, MD; Team Chief and Operations Officer, Field Investigative Unit, USACIDC, Arlington, VA; Operations Officer and Commander, Bavaria CID Field Office/Battalion, Bamberg, Germany; Operations Officer, 202d Military Police Group (CID), Heidelberg, Germany; and now as the Military Police Corps Regimental Chief Warrant Officer and Chief, Military Police Investigations Division, US Army Military Police School, Ft Leonard Wood, Missouri.
His military education includes the US Army Basic and Advanced Individual Training, the Military Police Apprentice Special Agent Course, Military Police Warrant Officer Advance Course, Army Logistics Management College and the Warrant Officer Senior Staff Course. Other professional training has included attendance at courses provided by the Kentucky State Police; Georgia State Police; Northwestern University; Drug Enforcement Administration; Federal Bureau of Investigation; Defense Logistics Agency; US Army Criminal Investigation Command; US Air Force Office of Special Investigations; the Naval Criminal Investigative Service; and the Defense Criminal Investigative Service.
Chief Warrant Officer Five(R) Tackett has earned an Associate in Science Degree in Business from the University of Kentucky, an Associate of Arts Degree in Administration of Justice from the Los Angeles City College and a Bachelor of Science Degree in Business Management from University College, University of Maryland, College Park, Maryland.
His awards and decorations include the Military Police Regimental Association Order of the Marechaussee in Silver; the Legion of Merit (1 OLC); the Meritorious Service Medal (3 OLC); the Army Commendation Medal; the Army Achievement Medal (2OLC); the Good Conduct Medal; the National Defense Service Medal (2 Stars); the Army Service Ribbon; the Armed Forces GWOT Service Medal; the Armed Forces Reserve Medal; NATO Medal; the Overseas Service Ribbon; the Joint Meritorious Unit Award; the Army Superior Unit Award; and the Army Meritorious Unit Commendation.
Mr. Tackett is married to the former Paula Dixon of Ashland, Kentucky; they have two daughters: Stephanie Wright of Macungie, PA and Elizabeth (Beth Ann) Bellerby of Waynesville, MO. They also have four grandchildren (Courtney, Caden, Camilee and Haylie).
Mr. Tackett retired from the Army on 28 Feb 2009, after 36 years of honorable service. He and Paula currently reside near Waynesville, MO and was an Army Professional Forums Facilitator as a contractor working on Fort Leonard Wood.
Mr. Tackett has been a member of the Waynesville-St Robert Chamber of Commerce since his retirement. He has served on the Government and Military Affairs Committee during this time. He has served on the Board of Directors for the last three years. Mr. Tackett has been the Vice President of the Board for the last two years.